Voice over Internet Protocol or VoIP is hardware that allows you to have a phone line that is housed on an Internet Protocol network. If you are confused or uncertain why Business VoIP Phone Systems are such a great solution, then you are not alone.
At Mokan Communications Supply, we don't just install business VoIP phone systems. We help educate consumers about the benefits and features of this technology. In many ways, VoIP was tailor-made for small business and home office use.
Our business telephone systems are powerful tools that allow businesses to multitask and accomplish a wide variety of important tasks. Our computer telephony plans create professional office environments.
Small businesses have a lot to gain from researching the many benefits of VoIP hardware. A transition to VoIP can give any business a competitive edge. Many of the specifics of doing business in the modern era require VPN connections and multiple phone lines within an office environment, and this level of network phone services are difficult for traditional phone lines.
Business VoIP Phone Systems are Affordable
VoIP hardware is the most affordable phone service option, and this is why VoIP is leading the way in conversions. New clients typically discover significant savings once transitioning to a VoIP network service plan.
For business owners, VoIP also provides faster connections that support dual usage for online conference calls and video calls.
Adding multiple phone lines for expanding operations has never been less expensive, because VoIP seamlessly incorporates additional phone calls onto an IP network.
Our VoIP plans feature unlimited or drastically reduced local and long distance calls in North America. These plans are usually flat rated and include options for low-cost international calls under $0.15 per minute. VoIP phone service is a cheaper and convenient change for most users.
A networked phone system works the same as traditional phone services for a fraction of the cost. The account holder can manage their system and gain access to service changes any time of day. Every call and phone number is stored in a call activity log that is easily accessible through the Mokan Communication website.
When customers need to upgrade services, that can also be done via our service website without hassle or difficulty. Companies with multiple locations in different countries can use VoIP to originate and transmit calls for a fraction of traditional phone line cost. These phone services have no geographical limitations.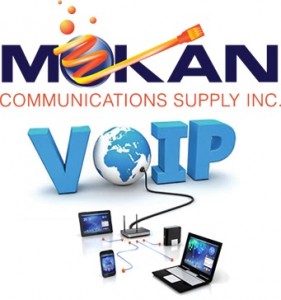 VoIP Is the Convenient Mobility Solution
VoIP is the most conveniently mobile telephone network service available on the market. VoIP services are extremely convenient because they are mobile and don't need to be dismantled when moved.
Since VoIP calls are made using Internet Protocol, they can also be transferred all over the world with very little besides a high-speed Internet connection. The basic ease of use associated with VoIP is epitomized by the user-friendly control interface that allows customers the ability to do many of the changes to their network from the comfort of their own office. Options, features, and services can be changed completely using our web based GUI system.
Features like call forwarding, speed-dialing, call-forwarding number changes, and call-block can all be formatted without the assistance of a customer service technician.
Calls from anywhere in the world can have a U.S. phone number or vice versa because the Internet does not have the same country code requirements. Phone wires don't travel outside the building or town in which they reside, but NEC business telephone systems are the ultimate in mobility solutions.
VoIP Is the Future of Telephony-Not the Past
Mokan Communications Supply offers all of the services that a traditional provider does, and we do it for less money.
Our services are typically included in calling plans and require no additional investment. Features like caller ID, call-waiting, call-conferencing, call-forwarding, and voicemail are considered upgrades by traditional phone companies, but at Mokan Communications, we offer these services as part of our calling plans.
The most current technologies are offered with VoIP network services. The most traditional phone systems could be used for was to send fax messages and transmit phone calls, but networked phone systems can meet the demands of the changing business user.
Rich media is the communication people use on a daily basis to perform actions like sending instant messages, transferring photos and videos, and social media interactions.
Rich media technology is made possible by the specifics of VoIP technological integration with other programs. This integration makes it possible for application layers to run VoIP protocols and collaborate with other applications like email, web browsers, and social media programs. This synergy that is possible using VoIP could never be realized using a traditional phone line.
Business VoIP phone systems are the best choice because it sets companies up for the future of telephony. Technology is rapidly advancing, and this is why VoIP is the choice of companies planning to remain current and well positioned for success in the future.
For more information on our VoIP applications and services, call (816) 734-9001 for a free quote.