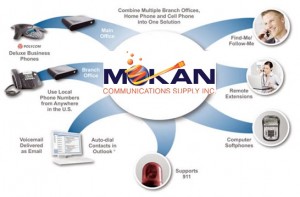 MOKAN Communications Supply INC (MCSI) provides a multitude of telecommunication services using top of the industry products such as Avaya and Nortel with full Avaya support, Nortel support from programming Avaya systems to relocating Avaya, Nortel or similar telecommunication systems . Providing telephone engineer Siemens Service, Panasonic PBX, Avaya, NEC phone system maintenance. We facilitate new system installation, as well as phone system upgrades.
Our highly trained installers familiarize every client with the features of the phone system, allowing your company to fully comprehend the capabilities and operation of your system.
Additionally, we maintain your telecommunication system; providing troubleshooting and repairs, re-locations, system cabling and much more.
Take advantage of our complimentary on-site survey to see how MCSI can improve your communication process!
MCSI is earth friendly! We will do everything possible to relocate your current system so that it doesn't end up in a landfill. Contact one of our customer service reps before disposing of your old phone system to see if you qualify for our buy back program.

Voice over Internet Protocol, commonly referred to as Voice Over IP or VoIP, is a popular telecommunication choice for businesses of all sizes. This new technology eliminates the need for local and long-distance telephone services by utilizing an internet connection rather than a dedicated phone line. VoIP makes expanding and outsourcing a breeze, and also makes it easy for people to connect to you and your team. There is typically a great savings benefit in replacing traditional phone service providers with VoIP.