As a business owner, you're responsible for ensuring your customers can contact you whenever they need to. To do this, you have to have an internal phone network. But how can you decide which one is right for you?
Many businesses choose to use a PBX system, which involves a vast array of hardware and complicated processes to keep you connected. On the other hand, you can utilize a cloud phone system to accomplish the same goal without all the mess. VoIP systems are also extremely popular but present quite a few challenges. An IP phone system functions with a combination of in-house hardware and internet communication, and is typically the best system available.
As experts, we recommend cloud phone system software for any sized business. Here are just a few of the benefits that cloud based phone systems can offer your business.
No Maintenance
Your provider will supply you with phone numbers and hardware to use within your system. They will also provide maintenance should you run into any problems down the road.
Zero Hardwa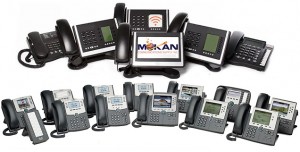 re

Hardware is expensive and nearly impossible to upgrade. Cloud phone systems take the expense and upkeep out of your phone system.
Scalability
Should your business grow and require new phone lines, a cloud-based platform will make it easy to expand whenever necessary.
No Upgrades Needed
Hosted VoIP can easily provide upgrades to the cloud phone systems software, which makes improvements seamless for all businesses using their service.
If you're trying to decide between VoIP systems, an IP phone system, or a cloud phone system, consider the aforementioned benefits and contact us to learn more about your options. Call now for a free consultation, (816) 734-9001.